Forts & Battlefields of Rajputana
Duration: 21 nights - 22 days
Locations: Delhi - Agra - Bharatpur - karauli - Ranthambhore - Bundi - Bassi - Udaipur - Kumbhalgarh - Jodhpur - Pushkar - Kuchaman - Nagaur - Jaipur - Sariska - Delhi
Tour Highlights
Delhi
Red Fort, Raj Ghat, Jama Masjid, Chandni Chowk, India Gate, President House, Humayun Tomb & Qutub Minar
Mathura & Vrindavan
Shri Krishna Janmabhumi Temple, Bankey Bihari Temple & ISKCON Temple
Agra
Taj Mahal, Agra Fort, Sikandara
Fatehpur Sikri
Akbars Residential Palace, Mosque & Tomb of Salim Chisti
Bharatpur
Bird Sanctuary
Khanwa
Battlefield of Khanau
Karauli
Bhanwar Vilas Palace, City palace & Temple of Madan Mohan Ji
Ranthambhore
Tigers, Fort & Jeep Safari
Bundi
Sukh Niwas, Chaurasi Khambon ki Chhatri & battlefield
Kota
Umaid Bhavan Palace & jag Mindar
Chittorgarh
Chittor Fort, Rana Kumbha Palace, Victory Tower, Palace of Rani Padmini, Tower of Fame & Palace of Patta & Jaimal
Udaipur
City Palace, Sahelion Ki Bari, Lok Kala Museum & Boat Ride at Lake Pichola
Ranakpur
Jain Temple Complex
Jodhpur
Mehrangarh Fort & Jaswant Thada
Nagaur
Nagaur Fort
Merta
Mira Bai Temple
Pushkar
Bramha Temple, Lake and other Temple
Ajmer
Adai-din-ka-Jhopra, Dargah of Salim Chisti & the Jain temples
Jaipur
Elephant ride to Amber Fort Palace , City Palace, Jantar Mantar (Observatory) & Hawa Mahal (Palace of Winds), Jaigarh Fort , Nar Garh Fort
Tunga
Battlefield
Sariska
Tigers & Jeep Safari
Detailed Itinerary

Day 01 : Arrive Delhi
Arrive by International flight, after traditional "Swagat" (Welcome) our representative would assist you at airport & transfer to hotel for check in. Delhi is a bustling metropolis, which successfully combines in its folds the ancient with modern. Its strategic location was the prime reasons why successive dynasties chose it as their seat of power. In fact, more mythological cities are believed to be here, like the city of Indraprastha from the Hindu epic Mahabharata, founded around 5000 BC. Numerous monuments were built over several centuries by different rulers like Qutub-ud-din Aibek, Alauddin Khilji, Tughlaks, Humayun & Shah Jahan, who built the Walled City Shah Jahanabad.
Later in first half of 20th century much of New Delhi was planned by Sir Edwin Lutyens, who laid out a grandiose central administrative area as a testament to British rule in India. The division in walled city & New Delhi also marks the division in life styles.
Overnight Hotel - Delhi (B)
Day 02 : Delhi Full Day Tour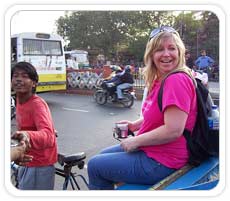 Today we take a guided tour of Old Delhi, the 17th century walled city of Shah Jahanabad, Visiting the great Jama Masjid, the principal mosque of Old Delhi. Built in the year 1656 AD by the Mughal Emperor Shah Jahan, it is the largest & best known mosque in India. Later we walk down or take a rickshaw ride through Chandi Chowk, the old marketplace of Shah Jahanabad now a picturesque bazaar to reach Red Fort, built in the year 1648 by Shah Jehan.
In New Delhi, we visit Raj Ghat, memorial to the Father of the Nation, Mahatma Gandhi. It is a simple black marble platform that marks the spot of his cremation on 31 January 1948. Further we drive past India Gate, memorial built in the year 1931 to commemorate the Indian soldiers who died in the World War I & the Afghan Wars. The names of the soldiers who died in these wars are inscribed on the walls. President's House, the official residence of the President of India, built in the year 1931. Until 1950 it was known as Viceroy's House & served as the residence of the Governor-General of British India. We will also visit Humayun's Tomb, memorial of Mughal Emperor Humayun, built in the year 1562. The complex is a World Heritage Site & the first example of this type of Mughal architecture in India. Qutub Minar, built in the year 1206 by Qutub-ud-din Aibek. It is the tallest (72m) brick minaret in the world, an important example of Indo-Islamic Architecture. Qutub Minar & its monuments are listed as a UNESCO World Heritage Site.
Overnight Hotel - Delhi (B)
Day 03 Delhi - Agra (220 km- 05 hr)
Today we drive to Agra, beautifully situated on the banks of river Yamuna. It achieved prominence as the capital of the Mughal Emperors from the year 1526 to 1628, remains major tourist destination because of its many splendid Mughal-era monuments, most notably the Taj Mahal, Agra Fort & Fatehpur Sikri, all three are UNESCO World Heritage sites.
En route Mathura & Vrindavan
En route we visit Mathura & Vrindavan, places related with the birth & childhood of Lord Krishna. In Mathura we visit Shri Krishna Janmabhumi temple, a stone slab marks the original birth place of Krishna. In Vrindavan we visit Bankey Bihari Temple, built in the year 1864. Temple is famous for the black statue of Krishna, also called as Thakur Ji. ISKCON Temple, one of the most beautiful temples in Vrindavan. Temple is devoted to Krishna, his brother Balaram & Krishna's beloved Radha.
En route we will also visit Sikandara, Akbar's tomb. His son Jahangir completed the construction of the tomb in the year 1613.
Overnight Hotel - Agra (B)
Day 04 Agra - Bharatpur via Fatehpur Sikri (100 km -2 hr)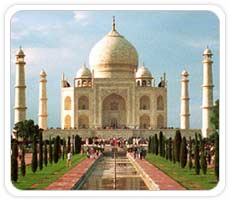 Half Day Tour
Today we visit Taj Mahal, symbol of eternal love, which stands on the banks of River Yamuna. It was built by the 5th Mughal Emperor, Shah Jahan in the year 1631 in memory of his wife, Mumtaz Mahal. It was completed in 22 years. Further we visit Agra Fort, taken over from the Lodhis by the Mughal Emperor Akbar in the late 16th century. The Fort can be more accurately described as a walled palatial city. It was built from red sandstone, often inlaid with white marble & intricate decorations.
Later we drive to Bharatpur en route we will visit Fatehpur Sikri (Ghost Capital), the political capital of India's Mughal Empire under Akbar's reign, from the year 1571 until 1585, when it was abandoned, ostensibly due to lack of water. We visit Emperor Akbars Residential complex, Mosque & Tomb of Salim Chisti.
Overnight Hotel - Bharatpur (B)
Day 05 Bharatpur
Today we drive to Bharatpur, founded by Maharaja Suraj Mal in the year 1733. It was once an impregnable, well-fortified city, & the capital of a kingdom ruled by Jat maharajas. The trio of Bharatpur, Deeg & Dholpur has played an important part in the Jat history of Rajasthan.
Sanctuary was previously known as Bharatpur bird Sanctuary & now known as Keoladeo National Park. The name Keoladeo is derived from the name of an ancient Hindu temple devoted to Lord Shiva in the sanctuary's central zone while the Hindi term 'Ghana' implies dense, thick areas of forest cover. This is a magnificent park having one of the World's greatest & most important heronries. It is situated at the confluence of Ghambhir & Banganga Rivers in Bharatpur district. Now a World Heritage site by UNESCO, this former duck-hunting reserve of the Maharajas is one of the major wintering areas for large numbers of aquatic birds from Afghanistan, Siberia & Turkmenistan. Some 364 species of birds, including the rare Siberian Crane, have been recorded in the park.
Later we drive to Karauli, en route we visit Khanwa a small village where the Battle of Khanau was fought in the year 1527. Babur defeated a formidable army raised by Rana Sanga of Mewar in this battle & firmly established his rule over North India. We stay at Bhanwar Vilas Palace, the residence of Maharaja of Karauli now a heritage hotel.
Overnight Hotel - Karauli (Bhanwar Vilas Palace) (B)
Day 06 Karauli - Ranthambore (110 km- 2 hr)
Half day Tour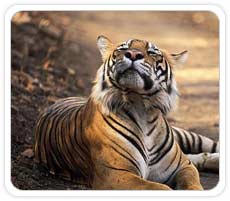 Today we visit City Palace of Karauli, old monument is exemplary in architecture, stone carvings & paintings. To witness the exquisite beauty of the Darbar Hall is a lifetime experience for the visitors. Next we visit Temple of Madan Mohan Ji, ancient temples of Madan Mohan Ji & Kalyan Ji are visited by thousands of devotees every year. The city is also said to be home of Shri Madan Mohan Ji.
Late we drive to Ranthambore National Park, bounded to the north by Banas River & to the Chambal River in the south. It isnamed after h istoric Ranthambore fortress, which lies within the park. The Park was established as Sawai Madhopur Game Sanctuary in the year 1955 by the Indian Government & was declared as Project Tiger reserves in the year 1973. It became National Park in the year 1980 & later in the year 1991 the tiger reserve was enlarged to include Sawai Man Singh & Keladevi sanctuaries, total area 1334 km.
It is famous for its tiger population & is one of India's Project Tiger reserves. Other Major wild animals found in the national park include the tiger, leopard, nilgai, dhole, wild pig, sambar, chital & the gaur. It is also home to wide variety of trees, plants, birds & reptiles
In the Evening, we take a Jeep safari to try luck in spotting the Tigers
Overnight Wildlife Resort - Ranthambore (B, D)
Day 07 Ranthambore
Early morning today before Breakfast, we take Jeep Safari to the Tiger Reserve, since becoming one of the original areas under Project, the park has recovered much of its natural beauty & dry deciduous forest has been restored.
Later we visit the Ranthambore Fort, founded in the year 944 by the Chauhan Rajputs. After the defeat of the Chauhan king Prithviraj III by Muhammad of Ghori in the year 1192. It led by Govinda Raja, grandson of Prithviraj became the center of Chauhan resistance to the expanding Sultanate of Delhi. Later after many battles & rulers, it came in hands of Mughals Emperor Akbar in the year 1559. The fortress passed to the Kachhawa Maharajas of Jaipur in the 17th century & it remained part of Jaipur state until Indian Independence. The area surrounding the fortress became a hunting ground for the Maharajas of Jaipur.
Overnight Wildlife Resort - Ranthambore (B, L, D)
Day 08 Ranthambore - Bundi
Today we drive to we visit Bundi, an undiscovered splendour of Rajasthan. Set in a narrow inclining gorge & palaces & forts have fairy tale quality about them. Isolated & independent, this picturesque location has so much to offer. Rajput architecture shines & in the intricately carved brackets, pillars. Interesting places are Diwan-e- aam, Hathia Pol, & Naubat Khana.
Half Day Tour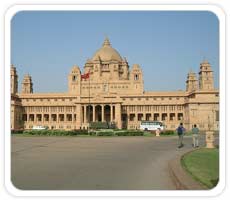 Today we visit the Umaid Bhavan Palace, constructed during the reigns of Umed Singh on the banks of Sukh Sagar or the Jait Sagar. The palace was meant for providing the princes a free hand to do what they liked away from the supervision of the Rao. The highlight of the palace is the white marble chhatri that stands in the centre of the roof of the second storey. Next we visit the Chaurasi Khambon ki Chhatri, located south of the town & a pavilion supported by 84 pillars. The pavilion was constructed in the year 1683 by Rao Anirudh Singh to honour the services of Deva, his wet nurse. The two storeyed structure serves as a cenotaph as well as a temple though the importance of the cenotaph seems to have deteriorated with the passage of time. On the other hand the temple with Shiva Linga still commands respect from the devotees. The ceilings on both the floors are decorated with paintings of Rajput battles & fish symbols.
Also visit the battlefield of the battle between Kotia Bhil & Rao Deva.
Overnight Hotel - Bundi
Day 09 Bundi - Bassi via Kota (120 km - 04 hr)
Today we drive to Bassi, En route we visit Kota, along the eastern bank of the Chambal River lies an amazing juxtaposition of the majestic medieval age & modern industrialisation temples its untouched wealth of impressive forts, opulent palaces & splendid temples dating back over several centuries retain the past glory. The city was formed in the year 1572 Maharao.
Half Day Tour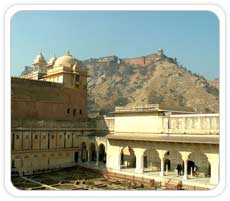 We visit Sukh Niwas, build by Maharaja Umed Singh II in the year 1905. Maharaja Umed Singh II commissioned Sir Swinton Jacob, a distinguished officer of the Royal Engineers in the British Army, to design the building. As expected, Umed Bhawan came up in 1905 in the prevalent Indo-Saracenic style Plentiful supply of white Khimach & Pink Sandstone from nearby quarries helped, while Italian marble, among other things, had to be imported for flooring. The Palace truly offers a royal ambience & is a majestic sight in Kota. In 1930, a new wing was added to the existing palace, which is still the residence of the royal family of Kota. Next we visit the Jag Mandir, amid the picturesque artificial lake of Kishore Sagar constructed in the year 1346 AD by Prince Dher Deh. The azure water around the red-sandstone monument enhances its beauty. Boat-rides can be enjoyed in the lake. The Keshar Bagh famous for its royal cenotaphs lies in the vicinity.
Later we visit the Battlefield where Rao Madho Singh & Prince Aurangzeb fought in the year 1579. Rao Madho Singh lost five of his six sons. Next we continue our drive to Bassi
Overnight Hotel - Bassi
Day 10 Bassi - Udaipur via Chittorgarh (150 km - 03 hr)
Today we take drive to Udaipur, En route we visit Chittorgarh, an ancient city in Rajasthan. It lies on the Berach River, a tributary of the Banas, & a former capital of the erstwhile kingdom of Mewar. By the 16th century, Mewar had become the leading Rajput state. After the Mughal Emperor Akbar captured Chittorgarh in the year 1568, the capital was moved west to Udaipur, in the foothills of the Aravalli Range, where Rana Udai Singh II had established a residence in 1559. However, Chittorgarh remains replete with historic associations & hold a special place in the hearts of many Rajputs, as it was a bastion of the clan at a time when every other stronghold had succumbed to invasion.
Here we visit Chittor Fort (Battlefields of battles between the Ranas of Chittor & Alauddin Khilji, Sultan Bahadur Shah of Gujarat & Emperor Akbar.] It is a massive structure with zigzag accent to it. The road leads through seven gates to the main gate Rampol (Gate of Ram). The main gate of the fort itself is Surajpol (Sun Gate). Within the fort a circular runs around the ruins of the fort. According to often told legend the construction of the fort was started by Bhim a Pandava hero of mythological epic Mahabharata. The fort has many magnificent monuments. Even though the fort is ruin but it is an overwhelming reminder of past history & its walls resonate with unbelievable legend of extra ordinary men & women & their equally astounding deeds. During the visit we also visit Rana Kumbha Palace, ruined edifice of great historical & architectural interest, being the most massive monument in the fort of Chittaur. The palace is believed to have underground cellars where Rani Padmini & other women committed Jauhar.
Next we visit Victory Tower, built in the year 1440 AD by Maharana Kumbha to commemorate his victory over Mohamed Khilji this 9-storyed tower is adorned by sculptures of Hindu deities around. This tower is the piece-de-resistance of Chittorgarh. Palace of Rani Padmini, built beside the lotus pool with a historical pavilion that changed the history of Chittor. Ala-ud-din saw the reflection of Queen Padmini from here & was mesmerized. In the quest of possessing her led to a furious battle with Maharani Padmini's husband & the epitome of beauty-Cleopatra of Rajasthan, became an eternal legend in the history of Chittor. Tower of Fame, Dedicated to Adinathji the 1st Jain Tirthankara adorned by the naked figures of the Digambar [Adherents of the Digambar sect who does not believe in covering the natural body] A narrow stairway goes through seven stories of the tower to the top. The 22 metres high tower was build by a wealthy Jain merchant in the 12th century AD.
Palace of Patta & Jaimal, stand on a rocky rise south of Gomukh Kund. Both warrior heroes died in the third sack of Chittaur fighting the forces of Emperor Akbar.
Later we Continue drive to Udaipur, was founded in the year 1568 by Maharana Udai Singh after his final unsuccessful attempt to defend the Mewar capital, Chittorgarh from the invading Mughals under Emperor Akbar. The Kingdom of Mewar was considered the most respectable among all Princely states in Rajasthan & still remembered for the courage to protect the Kingdom. The site for Udaipur was chosen for its natural beauty, abundant water & natural protection afforded by the surrounding forests & Aravali mountains. It is set on the edge of three lakes & also known as the "City of Lakes & Palaces". Undoubtedly one of the most romantic cities in India, its beautiful Palaces are mirrored in the calm waters of Lake Pichola & the city is a brilliant kaleidoscope of narrow lanes flanked by bright stalls, gardens, lakes, palaces & temples
Overnight Hotel - Udaipur (B)
Day 11 Udaipur
Full day Tour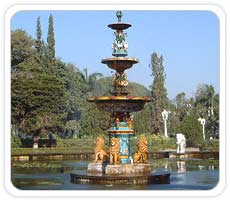 Toady we visit the City Palace, an intriguing collection of buildings contributed by various Maharanas (Kings) after Udai Singh & built in the year 1725. The magnificence of the Palace starts right from its entrance at the northern Tripolia Gate that brings us to the central courtyard, the best place to view the facade of filigreed balconies & ornate cupola-topped towers. Sahelion ki Bari (Garden of Maids of Honour) is an ornamental garden built by Maharana Sangram Singh for his daughter & the Ladies of the Queen's court. He built the garden with several fountains, pools & is decorated with chiselled pavilions & elephants. The fountains worked on the unique hydraulic technique devised in the year 1700 AD & work till today.
Later we visit Jagdish Temple, the Indo-Aryan temple, built in the year 1651 AD by Maharana Jagat Singh, is the largest & the most beautiful temple of Udaipur with noteworthy sculpted images. We also enjoy boat ride on Lake Pichola, the beauty of the lake is enhanced by the surrounding hills, palaces, temples, bathing ghats & embankments. The Jag Niwas (Lake Palace) & Jag Mandir, the two island palaces on the lake look like pearls in the lake.
Overnight Hotel - Udaipur (B)
Day 12 Udaipur - Kumbalgarh (100Km- 02 hr)
Today we drive Kumbalgarh, Rana Kumbha the legendary Mewar hero, an astute & a great builder. Of others, Kumbalgarh is the most inspiring. A joy for the nature lovers, it is surrounded by greenery & wildlife. It is also within a short driving distance from the famous 15th century Ranakpur Jain Temples. An area steeped in history & abounding in wildlife, unspoilt nature harmonizes with the modern comforts & the warm hospitality of the Aoudhi.
En route we visit Haldighati (Gogunda) - the most famous battlefield of Rajputana where the most famous battle was fought in the year 1576 between Rana Pratap & the Imperial Forces of Emperor Akbar.
Overnight Hotel - Kumbalgarh (B)
Day 13 Kumbalgarh - Jodhpur via Ranakpur (280km - 06 hr)
Today we drive to Jodhpur, bustling desert city is the 2nd largest city in Rajasthan & has landscape dominated by the massive Mehrangarh Fort topping a sheer rocky ridge Rao Jodha, a chief of the Rathore clan, founded the city in the year 1459 & it is named after him. It was formerly the seat of a Princely state, also known as Marwar.
En route Ranakpur
Ranakpur, located in the mountain ranges of Pali. We visit the famous Ranakpur Jain Temples were built during the reign of the liberal & gifted monarch Rana Kumbha in the 15th century. An enormous basement covers 48,000 sq. feet area. There are four subsidiary shrines, 24 pillared halls & eligibly domes supported by over four hundred columns. The artistically carved nymphs playing the flute in various dance postures at a height of 45 feet are an engrossing sight. In the assembly hall, there are two big bells weighing 108 kg whose sound echoes in the entire complex
Overnight Hotel - Jodhpur (B)
Day 14 Jodhpur
Full Day Tour

Today we visit the Mehrangarh Fort (majestic fort), built by Rao Jodha, located atop a 125m high hill. The fort museum houses an exquisite collection of palanquins, howdah (Elephant saddle), royal cradles, miniatures, costumes & furniture. We also visit the Jaswant Thada, a white marble memorial built in the year 1899 in memory of Maharaja Jaswant Singh II. It is an architectural landmark in Jodhpur.
Later we also visit the Guda Bishnoi Village, a world of tribal colour & rustic cultural grandeur. A tour to the village in open air jeeps, visit various traditional villages, look at local handicrafts like shoe makers, pottery, hand weaving. Bishnois are an integral part of this region, a very hard working & hospitable tribal community. It is a wonderland where wild animals walk past village huts & villagers prefer to sleep without food so that animals are fed. They are ready to die to save the trees & nature & lead a pure vegetarian & clean life according to tenets preached by religious guru, Jambaji. They worship nature in all its forms & pray to green trees & animals that inhabit their land & thus make every effort to conserve environment. A noticeable fact about Bishnois is that they pray to Hindu deity Lord Vishnu & bury their dead like Muslims
Overnight Hotel - Jodhpur (B)
Day 15 Jodhpur - Nagaur (140km - 03 hr)
After breakfast drive Nagaur Fort, shimmers like a beacon in sharp contrast to the dull sandy stretch of desert which surrounds it. Located atop a hill like so many of Rajasthan's forts for strategic reasons is the historic Nagaur fort, dating back to the 4th century. Originally a mud fortification, built in the 4th century by the Nagvanshi Dynasty, to whom it owes its name, is located in the heart of the city of Nagaur. Within its massive walls & seven gates, it encloses four palaces & 60 buildings small & large, gardens, tanks, pavilions built in the best traditions of Rajput & Mughal architecture. The battle between the forces of Rathores of Jodhpur & Akbar's Mughal forces was fought. The fort was seized by the forces of Emperor Akbar in the year 1561 AD. The three palaces within the fort which are particularly exquisite are the Hadi Rani Mahal, the Sheesh Mahal & the Badal Mahal which are noted for their beautiful frescoes.
Overnight in Special tents within the Fort premises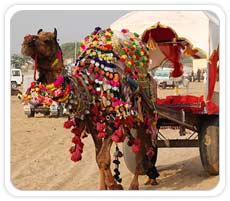 Day 16 Nagaur - Pushkar (150km - 04 hr)
Today we drive to Pushkar, an enchanting small town located exactly on the edge of the desert but is separated from it by Nag Pahar, the Snake Mountain. The town frequently visited by devotees lies to the side of the small Pushkar Lake with its multitudes of bathing ghats & temples. It also holds the most unique fairs of its kind in the world. It is a combination of an animal fair & the religious fair. Both the fairs are enchanting & have their own unique aspects & quality. As per the Indian calendar the fair is held in the first lunar cycle in the month of Kartik culminating on the Kartik Poornima (Full moon).
En route visit Merta the birthplace of Saint Mira Bai. It was captured by Imperial forces of Emperor Akbar in 1561 AD. Also visit the Varaha temple, where the battle between Emperor Aurangzeb & Ratan Singh of Alaniyawas was fought.
Overnight Hotel - Pushkar (B)
Day 17 Pushkar - Kuchaman (100 km - 02 hr)
Half day Tour
Today we visit Brahma Temple, said to be the only dedicated to Lord Brahma in India. This is the only temple of the god Brahma in the world. No pilgrimage of Hindu places is considered complete till the pilgrim bathes in sacred waters of Pushkar. Also some near by temples
Later we drive to Kuchaman, en route stop at Ajmer, situated in the green oasis wrapped in the barren hills has been a witness to an interesting past. The city was founded by Raja Ajay Pal Chauhan in the 7th Century AD & continued to be a major center of the Chauhan power till 1193 A.D. when Prithviraj Chauhan lost it to Mohammed Ghauri. Since then, Ajmer became home to many dynasties, which came & left leaving behind indelible marks of their culture & traditions on the city's history, converting it to an amalgam of various cultures & blend of Hinduism & Islam.
Here we visit the Adai-din-ka-Jhopra, a masterpiece of Indo - Islamic architecture. As legend goes it was constructed in two & a-half days (Adhai-Din). It is a relic of an old mosque consisting of a quadrangle with a front screen wall of seven pointed arches. The distinct pillars & arched screen with its ruined minarets make it a splendid architectural masterpiece. Dargah of Salim Chisti, tomb with a splendid marble dome is in the centre of the second courtyard which is surrounded by a silver platform. At the foot of a barren hill, is situated India's most important pilgrimage center for people from all faiths. It is the splendid tomb of the Sufi saint Khwaja Moinuddin Chisti more popularly known as Khwaja Saheb or Khwaja Sharif. The shrine is next only to Mecca or Median for the Muslims of south Asia. Akbar used to make a pilgrimage to the Dargah from Agra once a year. Later we visit Digambar Jain temple, which has a double storey hall adjacent to the main temple. The hall displays a series of large gold plated wooden figures depicting legends from Jain mythology. The entire hall is richly adorned by glass mosaic, precious stones, gold & silver work. The place is also popularly called Soni Ji Ki Nasiyan.
Overnight at Kuchaman Fort
Day 18 Kuchaman - Jaipur (115 km - 02 hr)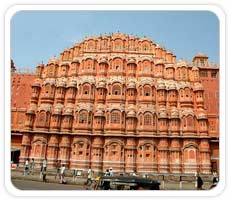 Today we drive to Jaipur, popularly known as Pink City, the flamboyant & colourful capital of Rajasthan. With its rich & colourful past, resplendent with tales of valour & bravery, it is now one of the most important heritage cities in India. The city was founded in the year 1728 by Maharaja Sawai Jai Singh II, the ruler of Amber. It remains the only city in the world symbolizing the nine divisions of the universe, through nine rectangular sectors.
Overnight Hotel - Jaipur (B)
Day 19 Jaipur
Today we take an excursion to Amber Fort, the palace complex which stands to this date was commenced under the reign of Raja Man Singh. We take an Elephant ride to reach the Fort situated on the hill, an overwhelming experience.
Later we play elephant polo, the game once only the kings used to play. Also attend a lecture on Rajput war tactics would be followed by drinks & Bar-be-Que dinner.
Overnight Hotel - Jaipur (B)
Day 20 Jaipur
Today we visit the City Palace, a perfect blend of Rajasthani & Mughal architecture. The center of the palace is a seven-storied building called Chandra Palace, with fine views over the gardens & the city. Further we visit Jantar Mantar (Solar Observatory), an astronomical treasure house, with solar devices that give accurate predictions till date. We also visit Hawa Mahal (Palace of Winds), a five-storied structure of pink sandstone. It was built in the year 1799 so that veiled royal women could peer down the busy street market unseen by the world through its 593 stone Jharokas (mini windows).
Later we visit the Nahargarh Fort, located on the sheer rugged ridge of Aravali Hills & it forms an impressive northern backdrop of Jaipur. It was built in the year 1734 & extended in the year 1868. Nahargarh meaning abode of the tigers was built by Jai Singh to bolster the defence of Amber. The legends also have it that it was named Nahargarh after Nahar Singh a prince whose spirit would destroy the construction & not allow its progress further. The rooms are linked by corridors & retain some delicate frescos as well as toilets & kitchen hearths.
Evening - Special Royal Dinner Jaigarh Fort is the most spectacular of the three-hilltop forts overlooking Jaipur city. In Mughal times, the Jaipur region was a major weapon-producing centre for the Mughal & Rajput rulers, several of which are on display in the fort's museum. It is one of the few military structures of medieval India preserved almost intact, containing palaces, a granary, a well-planned cannon foundry, several temples, a tall tower & giant mounted cannon-the Jai Ban (Jaivan) which is the largest cannon in the world. The display includes a collection of canons, many of which are exquisitely decorated & were used in the Mughal campaigns led by the Rajput King, Raja Man Singh.
Overnight Hotel - Jaipur (B)
Day 21 Jaipur - Sariska (110 km - 02 hr)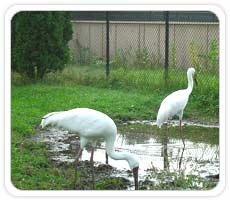 Today we drive to Sariska, via Tunga, site of the battle between the Kachhawah Rajputs & the Marathas. Things got really bad during Sawai Prithvi Singh & the Maratha General Mahadji Scindia, were always at each other's throats. The Maratha & Jaipur forces met at Tunga where a fierce battle was fought for three days in the year 1787. But the Marathas, who were supposedly trained by French, were no match for the Rajputs & were defeated.
Next we continue our drive to Sariska, was built as a hunting lodge at the close of the 19th century by Maharaja Sawai Jai Singh of Alwar in calm, quiet & a thickly wooded valley on the threshold of what is now the Sariska national park. The palace is a brilliant jewel set in nature in all its natural magnificence & is much admired by all discerning visitors for its architectural grandeur & natural surroundings. Later we take Jeep Safari through the jungle.
Overnight Hotel - Sariska
Day 22 Sariska - Delhi (220 km - 05 hr)
Early morning today before Breakfast, we take Jeep Safari to the Tiger Reserve, since becoming one of the original areas under Project, the park has recovered much of its natural beauty & dry deciduous forest has been restored.
Later we continue our drive to Delhi, upon arrival in Delhi Transfer to Airport for onward Destination.
Our tour concludes: We thank you for your patronage & look forward to serve you again in near future.
Package includes:
21 Nights accommodation on twin sharing basis with Breakfast
Breakfast & other meals as per the Itinerary
Special dinner as per the Itinerary
A/C transportation as per the itinerary (No transportation on leisure days).
Local English speaking guide during the tour except Fatehpur Sikri
Elephant ride in Jaipur.
Boat ride in Udaipur
Package does not include:
Any airfare or airport tax.
Any Monument entry fee & camera fee
All presently applicable taxes.
Any expense of personal nature such as hard/soft drinks, laundry, phone/fax calls, tips etc.
Any other expense not mentioned in the "Package includes".
Battlefields to be visited
Khanwa [Bharatpur] - 1527 AD - Rana Sanga of Mewar & Mughal Emperor Babur
Ranthambore - 1301 AD - Raja Hamir [Chauhan rulers of Ranthambore] & Alauddin Khilji [Turkish Sultan - Saka
Bundi - 1457 AD - Between Mohammad Khilji [Sultan of Mandu] & Berisal Hada [Ruler of Bundi]
Chittaur [1st battle] - 1303 AD - Rana Rattan Singh of Mewar & Alauddin Khilji
Chittaur [2nd battle] - 1535 AD - Rana Bikram Jeet Singh & Bahadur Shah [Sultan of Gujrat]
Chittaur [3rd battle] - 1567 AD - Rana Udai Singh of Mewar & Mughal Emperor Akbar
Haldighati [Udaipur] - 1576 AD - Maharana Pratap of Mewar & Raja Man Singh I of Jaipur [Commander of Mughal Emperor Akbar
Tunga - [Jaipur] - 1787 AD - Combined forces of Jaipur & Jodhpur & the Madhav Rao Scindia, the Maratha ruler