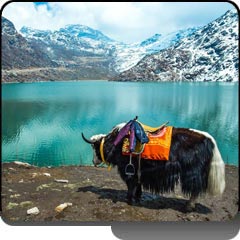 When it comes to natural exquisiteness, Northeast India remains the most priceless possession of India. Comprising of eight states, Arunachal Pradesh, Assam, Manipur, Meghalaya, Mizoram, Nagaland, Sikkim and Tripura, this region has everything to make you fall in love with it. Pristine ambience, stunning rivers, and never ending stretched of greens are a few experiences one can only have in Northeast India.
People and Cultures
You can find a brilliant concoction of Hindu, Christian as well as Buddhists, in the North East region of India. The region is also home to various tribal groups like Khasi, Garo and Jaintia, who bring in the taste of their unique tribal culture, folk dance, food habits, festivals and crafts. The locals of North East India are deeply rooted to their culture and wear their customs like their second skin. Leading a simple life, most of them indulge in agricultural activities like tea farming, or making handicrafts.
Experiences to have in Northeast India
One horned Rhinos in Kaziranga -
This is one of the most fascinating activities to indulge in Northeast India. The exotic one-horned rhinos peacefully dwell in the Kaziragna National Park. You can enjoy a safari amidst this heaven of flora and fauna.
Tiger sighting at Manas National Park -
The only home of tigers in the Northeast India, one can enjoy a safari at this UNESCO World Heritage Site, and spot big wild cats closely.
Explore the largest monastery in India -
The Tawang Monastery of Arunachal Pradesh rests at an elevation of 10,000 feet, and is the most picturesque monastery in the whole world.
The beauty of Nathu La Pass -
Nathu La pass remains a major star of North East India connecting the Indian state of Sikkim with China's Tibet Autonomous Region. Visiting here to hear your own echoing voice is a must have experience.
Challenge the daredevil in you with river rafting - Siang River is a tributary of the Brahmaputra River and is blessed with all the wonders of Mother Nature. Here you can experience the thrill of Grade III and Grade IV rivers.
Living root bridges of Cherrapunji -
Cherrapunji is famous for its living root bridges. These natural bridges are made from the aerial roots of Rubber Fig Trees, and look extremely beautiful offering a very different façade of nature.
Sunset at Gorichen Peak -
Standing 6,500 meters above sea level, the Gorichen Peak is one of the top most peaks of the region. The place offers the most beautiful sunset and sunrise experience. One can also indulge in activities like camping, trekking and rock climbing here.
Wealth of Nature at the Nuranang Falls -
Also known with the name of Bong Bong falls, the Nuranang falls cascade from a height of 100 meters. The serenity of this place is beyond imagination. The falls are renowned for offering abundance of serenity to couples visiting there.
Recommended North East India Tour Packages
Majestic Assam, Arunachal and Meghalaya Tour

Duration:

15 Nights - 16 Days


Locations:

Kolkatta + Guwahati + Dirang + Tawang + Bomdila + Itanagar + Ziro + Daporizo + Along + Pasighat + Dibrugarh

Classical Sikkim

Duration:

07 Nights - 08 Days


Locations:

Delhi + Bagdogra + Darjeeling + Gangtok + Kalimpong + Bagdogra + Delhi

Cultural East India Tour

Duration:

12 Nights - 13 Days


Locations:

Delhi + Bhubaneswar + Puri + Calcutta + Bagdogara + Darjeeling + Gangtok + Kalimpong + Bagdogara + Delhi

Golden Triangle with Himalayan Monasteries

Duration:

12 Nights - 13 Days


Locations:

Delhi + Jaipur + Agra + Mathura + Vrindavan + Delhi + Bagdogara + Darjeeling + Pemayangtse + Gangtok + Kalimpong + Bagdogara + Delhi

Grand East Himalayan Tour

Duration:

09 Nights - 10 Days


Locations:

Bagdogara + Darjeeling + Gangtok + Kalimpong + Bagdogara

North East India Cultural Tour

Duration:

21 Nights - 22 Days


Locations:

Calcutta + Dibrugarh + Namdapha + Dibru + Pasighat + Along + Daporijo + Ziro + Itanagar + Tawang + Dirang + Nameri + Guwahati + Calcutta

Orissa Temple & Tribal Tour

Duration:

15 Nights - 16 Days


Locations:

Delhi + Bhubaneswar + Puri + Gopalpur + Rayagada + Jeypore + Vishakhapatnam + Mumbai

Sikkim Delight

Duration:

05 Nights - 06 Days


Locations:

Delhi + Bagdogra + Darjeeling + Gangtok + Bagdogra + Delhi

Standard Orissa Tour

Duration:

08 Nights - 09 Days


Locations:

Delhi + Bhubaneswar + Puri + Chilka Lake + Gopalpur + Bhubaneswar + Delhi

North East (Seven Sister) Tour

Duration:

21 Nights - 22 Days


Locations:

Guwahati + Tezpur + Bomdila + Tawang + Bhalukpong + Kaziranga + Dimapur / Kohima + Imphal + Aizaul + Agartala + Silchar + Shilong + Guwahati