India hides many gems in its bosom that reflect the rich Indian history and impressive artistry that existed in the bygone era. Painting the rich Indian traditions, cultures and religion in the most beautiful way, Ajanta and Ellora caves make everyone ponder in disbelief. Consisting of 64 rock-cut caves, the Ajanta Ellora Caves are located in close proximity from the city of Aurangabad.
The caves are a living example of India's rich heritage mirrored through intricate carvings and beautiful paintings. Today, Ajanta and Ellora Caves are a UNESCO World Heritage Site and exist in the wishlist of many travelers. Mirroring the best of Indian rock-cut architecture, one needs to see to believe its beauty. When Ellora came in the notice of historians, they shifted their focus from Ajanta to Ellora, leaving the former deserted. However, Ajanta caves still stand with pride housing some renowned 'frescoes' of unfathomable heritage value.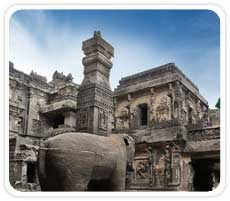 Ajanta Caves
Beautifully situated in a secluded river valley 105km northeast of Aurangabad, Ajanta Caves are much older than Ellora. The Ajanta Caves have around 300 rock-cut Buddhist cave monuments which are approx 2nd century BC old. The Ajanta Caves are renowned for their 'frescoes' and exhibit beautiful interiors through paintings, murals, sculptures that illustrate the life of Buddha. Despite their age, the Ajanta Caves possess a fineness that makes them stand apart. The caves look like Buddhist temples with striking statues and sculptures of Lord Buddha.
Ellora Caves
Locally famed as 'Verul Leni', Ellora Caves are located in the Sahyadri Hills of Maharashtra. These are among the largest rock-hewn monastic temple complexes in the world and are a true personification of ancient Indian rock-cut architecture. The Ellora Caves date back to the renaissance of Hinduism under the dynasties of Chalukya and Rashtrakuta.
Ellora houses 34 caves, including 12 Buddhist (AD 600–800), 17 Hindu (AD 600–900) and five Jain (AD 800–1000). The grandest one is the Kailasa Temple, dedicated to Lord Shiva. The temple houses one of the world's largest monolithic sculptures, and holds great importance among Hindus. There are 12 Buddhist caves among Ellora Caves known for their calmness and dramatic Buddha sculptures. Dating back to the ninth and tenth century AD, Jain Caves of Ellora are beautified with extremely intricate detailing that charms the heart of every art lover. 
Attractions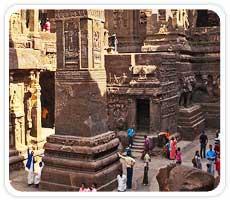 Ajanta View Point – Not many people know about this beautiful view point, hovering over the Ajanta Caves. The place offers splendid views of the surrounding that lets one cherish the brilliance of Indian rock cut architecture.
Bibi-ka-Maqbara – This mausoleum was built in 17th Century by Emperor Aurangzeb for his wife Rabia-ud-Durrani.
Aurangabad Caves – Located around 2km from Bibi-ka-Maqbara, these are a total of 12 Buddhist Caves comprising of some of the most beautiful sculpture carvings in the World.
Ellora Festival – The Ellora Festival is a classical music and dance festival which is organized at the Ellora Cave Milieu. The festival is held during the month of March, with interesting performances being held in the backdrop of over 1400 year old caves. This is definitely a once in a lifetime experience.
How to Reach
By Air – The nearest airport to reach Ajanta and Ellora Caves is located in Aurangabad that connects these beautiful sites to all the parts of the country.
By Train – For Ellora nearest railway station is in Aurangabad (30 km), while for Ajanta it is Jalgaon (57 km).
By Road – Regular buses, cars and autos are available in abundance between Aurangabad and these World Heritage Sites.

Recommended Ajanta Ellora Tour Packages
Ajanta Ellora Tour
Duration: 13 Days / 12 Nights
Destination Covered: Mumbai - Aurangabad - Ellora Caves - Ajanta Caves - Aurangabad - Hyderabad - Gulbarga - Bijapur...

Aurangabad Extension

Duration:

02 Nights - 03 Days


Locations:

Jaipur + Mumbai + Aurangabad + Mumbai

Aurangabad and Mumbai caves

Duration:

05 Nights - 06 Days


Locations:

Mumbai + Aurangabad

Golden Triangle Tour with Ajanta and Ellora
Duration : 11 Days / 10 Nights
Destinations : (Delhi - Jaipur - Fatehpur Sikri - Agra - Jaipur - Udaipur - Mumbai -Aurangabad - Mumbai)