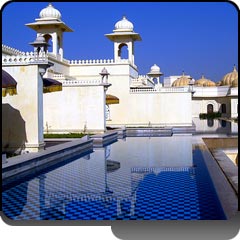 A desert yet so colourful, ..... yes it is Rajasthan.
Bustling bazaars, preening peacocks, sloppy sand dunes, diverse wildlife - uniquely Rajasthan.
The state derives its name, Rajasthan, from 'Rajah' and 'Sthana', literally meaning home of kings. The history of Rajasthan, once called Rajputana, narrates the legendary sagas of chivalry and romance. The marvelous architecture and captivating structures contribute in their own way in making Rajasthan an unbeatable destination on India's tourist map.
No Indian state pronounces the fact that India is a land of diversities better than Rajasthan. The state houses a distinct variety be it customs, culture, music, costumes, dialects, people or cuisine. Thanks to these diversities that make Rajasthan the most colourful state of India. No area assembles the many paradoxes of India as does the Land of Kings - Rajasthan. The magnificent forts and palaces, stunning havelis and exquisite temples, spread across the desert landscape, are a testimony to the rich historic past of Rajasthan.
The fairs and festivals in Rajasthan celebrate every occasion, birth and harvest. Merriment continues with great fun and frolic. The festive mood gets exhilarated with folk music and dance. A plethora of celebrations brings forth Rajasthan at its colourful best. Colours unlimited soothe every soul visiting this magical place.
Music and dance is inseparable from the heritage of Rajasthan. The folk music narrates the stories of bravery of the erstwhile kings. The unusual dance forms does not fail to fascinate even the most seasoned traveler. The costumes of the locals add beauty to the dancing ambiance. The swirling bright ghagras of the charming Rajasthani dancers offer a visual treat for the eyes. 
The brilliantly hued attires of the graceful Rajasthani womenfolk break the monotony of the barren desert landscape. Rajasthani women are known for their love towards ornaments and jewellery in silver and gold. Rajasthani men are equally dashing. Can you believe the brilliantly hued turbans worn by them change within every 12 miles in the state?  The color and sound the Rajasthani population chooses to express themselves is not seen or heard in any other part of the country.
Immensely popular amongst the tourists, Rajasthan enfolds an irresistible gamut of handicrafts in its lap. Hold your breath! The kaleidoscopic bazaars spilled with traditional artifacts will leave you mesmerized. It will be difficult for you to decide what to buy and what to leave. Jewelery in silver, blue pottery items and extremely fine miniature paintings are admirable.
Wildlife lovers will be bowled over to see wildlife sanctuaries that shelter rich and diverse species of flora and fauna. In case you love adventure, Rajasthan is a perfect place to be at. You will enjoy being here. The spirit of adventure has always been a prominent part of the Rajasthani lifestyle.
In the finest tradition of hospitality, Rajasthan invites you to indulge in sinful luxury and imitate the lavish lifestyle followed by the erstwhile kings.
Recommended Rajasthan Tour Packages
Colorful Heritage Tour - Rajasthan

Duration:

14 Nights - 15 Days


Locations:

Delhi + Mandawa + Bikaner + Jaisalmer + Jodhpur + Udaipur + Jaipur + Agra + Delhi

Golden Triangle Tour 05 Nights - 06 Days

Duration:

05 Nights - 06 Days


Locations:

Delhi + Jaipur + Agra + Mathura + Vrindavan + Delhi

Golden Triangle Tour 06 Nights - 07 Days

Duration:

06 Nights - 07 Days


Locations:

Delhi + Jaipur + Agra + Mathura + Vrindavan + Agra + Delhi

Palaces of Rajasthan with Classical India

Duration:

14 Nights - 15 Days


Locations:

Delhi + Udaipur + Ranakpur + Jodhpur + Pushkar + Jaipur + Fatehpur Sikri + Agra + Orcha + Khajuraho + varanasi

Jewels of Rajasthan

Duration:

09 Nights - 10 Days


Locations:

Delhi + Agra + Jaipur + Jodhpur + Udaipur + Mumbai

Rajasthan with Classical India & Kathmandu

Duration:

16 Nights - 17 Days


Locations:

Delhi + Udaipur + Jodhpur + Pushkar + Jaipur + Agra + Orcha + Khajuraho + Varanasi + Kathmandu + Delhi