South Karnataka Trail
Duration: 13 nights - 14 days
Locations: Mumbai - Bangalore- Mysore- Hassan- Hospet - Badami- Hubli- Goa -Mumbai
Tour Highlights

Mumbai

Gateway of India, Elephanta Caves boat cruise, Prince Wales Museum & Marine Drive

Bangalore

Tipu Sultan Palace & Museum, ISKCON Temple & Lal Bagh Garden.

Mysore

Srirangapatnam & Tipu's Summer Palace, Maharaja's Palace & Chamundi Hill

Hassan

Chennakeshawa Temple in Belur & Hoyasaleshwara Temple in Helebid

Hampi

Vitthal Temple, Queen's Bath & Lotus Mahal

Pattadakkal & Ajhole

World Heritage centre , Temples & Inscriptions
Cradle of Indian Architecture , Temples & Inscriptions

Badami

Rock cut temples, gateways & inscriptions.

Goa

Beaches


Optional

Basilica of Bom Jesus dedicated to Infant Jesus, Church of Se Cathedral, Church of St. Francis of Assisi & Lady of Rosary Church.
Detailed Itinerary
Day 01 - Arrive Mumbai
Arrive Mumbai by international flight, after a traditional 'Swagat' (Welcome) our representative would assist you at the airport & transfer to hotel for check-in. Mumbai is an archipelago of seven islands. Artifacts found that these islands had been inhabited since the Stone Age & documented evidence of human habitation dates back to 250 BC. In the 3rd century BC, the islands formed part of the Maurya Empire. In 1534, Portuguese appropriated islands from king of Gujarat later ceded to Charles II of England in 1661, as dowry for Catherine de Braganza. These islands were in turn leased to the British East India Company in 1668.
Overnight Hotel – Mumbai (B)
Day 02 - Mumbai -  Bangalore (Flight 9W-441 – 1740 hr-1915 hr)
Full Day Tour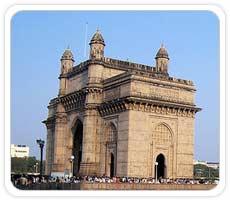 Today we take a City tour of Mumbai visiting Gateway of India, the entrance to the port of Mumbai. It was built to commemorate the visit of King George V in 1911. Across the road we visit Prince Wales Museum, built in a confluence of Gothic & Moorish styles. It boasts a collection of ancient Indus Valley artifacts dating 2000 BC, plus some priceless Tibetan & Nepali Art.
Later we take the boat cruise from Gateway of India to visit Elephanta Caves, houses rock cut temples dating back to 5th century CE. It was named by the Portuguese, after the statue of an elephant near the landing area of the island. We also drive through the Marine Drive, which runs along the shore of the Arabian Sea from Nariman Point past Chowpatty Beach to the foot of Malabar Hill.
In the Evening we take a flight to Bangalore, the garden city. The spacious city has many imposing structures full of historic & modern architecture. The majestic Vidhana Soudha, a magnificent post-independence structure housing the State legislature & Secretariat, stands in the center of the city with its attractive dome & galleries
Overnight Hotel – Bangalore (B)
Day 03 - Bangalore - Mysore (135 km - 03 hr)
Half Day Tour
Today we take a guided tour of Bangalore, visiting Tipu Sultan Palace; the layout of the palace gives the idea of the ethnic Mughal lifestyle. The fort & its remains present the history of the era in which it was built. The construction of the Tipu palace was started by Haider Ali & completed by Tipu Sultan, it is now a museum. Also visit ISKCON Temple, harmonious blend of the Dravidian & modern architecture. The building has some of the modern facilities along with Vedic preaching library.
Next we visit the Lal Bagh Garden, name Lal Bagh has been given to it for the wonderfully bloomed red roses that remain blooming all through the year. Haider Ali started building this garden in 1760
Later we drive to Mysore, capital city of the Wodeyars kingdom. It has always enchanted its admirers with its quaint charm, rich heritage, magnificent palaces, beautifully laid-out gardens, imposing buildings, broad avenues & sacred temples. There's an old world charm about the city that reaches out to everyone.
Overnight Hotel – Mysore (B)
Day 04 - Mysore
Full Day tour

Today we take a tour of Mysore, we visit the Srirangapatnam, the historic capital of Tipu Sultan known for his struggle againstBritish rule. Several monuments relating to his rule are sprinkled across the island. Later we visit Darya Daulat, commonly known as Summer Palace of Tipu Sultan is situated amidst scenic surroundings on an island formed by two branches of the River Cauvery. We also visit Maharaja Palace, designed by British architect Henry Irwin, the Amba Villas Palace as it is also known, was completed in 1912. Chamundi Hill, which is topped with a 12th century temple of Durga with the magnificent 5m tall Nandi, Carved from single piece of granite in 1659, its one of largest in India.
In the evening we visit Brindavan Gardens, dancing musical fountains on the terraces of Krishnarajasagar Dam, is a vast stretch of the most delicately planned symphony in architecture, horticulture, engineering & aesthetics.  
Overnight Hotel – Mysore (B)      
Day 05 - Mysore – Hassan (150 km - 03 hr)
Today we drive to Hassan, founded in the 11th century, by Channa Krishnappa Naik, a Palegar. The place is called Hassan after the Goddess Hasanamba (the smiling Goddess) presiding deity of the town.
Half Day tour
Later we take a tour of Chennakeshawa Temple at Belur, built in the year 1117 AD to celebrate Hoysala military victories & it took over a hundred years to complete. Stories from the Purans, Upanishads & other mythological sources have been executed in the most exquisite & authentic detail, tales from Ramayana & Mahabharata. We also visit the Hoyasaleshwara Temple at Helebid, built by Kettuvallam, during 1121 AD. Dedicated to Lord Siva has two shrines connected by pillared walls & in each shrine is a Lingam Hoyasaleshwara & Shanthaleshwara.
Overnight Hotel – Hassan (B)
Day 06 - Hassan - Hospet (150km – 03 hr)
Today we drive to Hospet, once a beautiful capital city of Vijaynagar empire, in ancient days was known as Nagalapura. The city was razed to the ground by Sultan of South India in the year 1565
Overnight Hotel – Hospet (B)
Day 07 - Hospet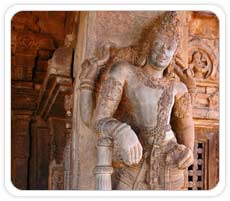 Excursion Hampi
Today we take a day excursion to Hampi, the capital city of the Vijaynagar Empire. Founded by Harihara & Bukka in 1336, it fell to the Muslim rulers in 1565 after the disastrous Battle of Talikota, subsequently lapsed into decline & abandonment. The once proud city of victory is now a city of desolation.
We visit the ruins of the Virupaksha Temple, dedicated to Lord Shiva & Pampadevi. This is the only temple that is still used for worship. The temple, with its nine-storied Gopuram & ceiling of the ranga mantapa is beautifully painted with scenes from the epics & Puranas. Later visit Vittala, a splendid 56 musical pillars complex. To the east of the hall is the famous Stone Chariot with stone wheels that actually revolve. Several of the carved pillars were attacked & a large portion of the central part has been destroyed.
We also visit Elephant stables, a beautiful example of Hindu-Muslim style of architecture, housed about 11 elephants in separate compartments. Queen's bath, structure has a very plain exterior but interior is stunningly ornate, with graceful arched corridors, projecting balconies. Lotus Mahal, lotus flower top, this two-story structure has beautiful arc ways set in geometric regularity. It was an air-cooled summer palace of the queen.
Overnight Hotel – Hospet (B)
Day 08 - Hospet - Badami via Pattadakkal & Ajhole (180km – 04 hr)
Morning we drive to Badami, founded by Pulakesi I, ruler of the Chalukyas, the town is located at the foot of a rugged, red sandstone outcrop that surrounds Agastya tirtha water reservoir on three sides & is known for its rock-cut cave temples, sculpted between 6th-8th centuries AD.
En route we visit Pattadakkal & Ajhole.
Pattadakkal, World Heritage centre & has 10 major temples representing the early Chaulakya architecture the biggest temple dedicated to Virupaksheshvara, has a huge gateway & several inscriptions.
Ajhole, famous as the "Cradle of Indian Architecture", it has over a hundred temples scattered around the village. The oldest temple the 5th century Lad Khan Temple, The Durga (Fort) Temple has a semi-circular apse & a complete portico. Among many other temples the Jain Meguthi Temple & the two storeyed Buddhist Temple are significant.
Overnight Hotel – Badami (B)
Day 09 - Badami – City Tour
Full Day tour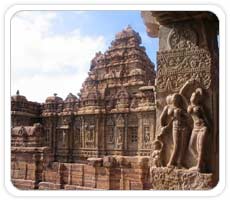 Today we take a tour of Badami, several temples dating from the Chalukyas period in Badami. First set of temples is a group of four on a hill adjacent to the Bhutanatha tank, are dating back to the 5th century CE. In the adjacent wall there is a carving of the cosmic dance of Shiva Natarajan depicted with eighteen arms. 2nd temple bears images of Vishnu in his Varaha & Trivikrama incarnations. 3rd rock cut temple with inscriptions dating this Vishnu temple to 578 CE during, the period of Kiritivarma Chalukyas. There are carved images of the Narasimha & Trivikrama avataras of Vishnu.
Further up, is a Jain rock cut temple dedicated to the Tirthankara Adinath with inscriptions dating back to the 12th century. The Mallikarjuna temple dating 11th century on a star shaped plan.
Overnight Hotel – Badami (B)
Day 10 - Badami - Hubli
Today we drive to Hubli, historic town was known as Raya Hubli & also as Elaya Puravada Halli during the ancient times. This city metamorphosed into an important commercial centre for trade in cotton & iron during the reign of the Vijaynagar Empire.
Overnight Hotel – Hubli (B)
Day 11 - Hubli- Goa (210km – 04 hr)
Today, we drive to Goa, once a part of the Mauryan Empire in the 3rd century BC. From 580–750 AD the Chalukyas of Badami had their sway over Goa. It is also known for its world heritage architecture including the Bom Jesus Basilica. Goa also has rich flora & fauna, owing to its location on the Western Ghats range, which are classified as a biodiversity hotspot rather an absolute paradise on earth.
Overnight Hotel – Goa (B)
Day 12 - Goa
Day at leisure
Overnight Hotel – Goa (B)
Day 13 - Goa
Day at leisure
OR
Full Day Tour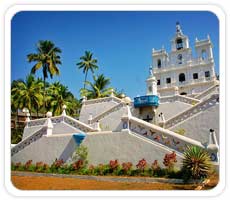 Today you may take an Optional tour of Goa, Visiting old Goa Churches; Basilica of Boom Jesus, built in 16th century dedicated to Infant Jesus is the most popular & famous of all churches in Goa. The mortal remains of St. Francis Xavier, kept in a silver casket, are enshrined here. Sri Mangueas Temple, surrounded by rolling green hills & dedicated to Lord Shiva, is the most important of all temples in Goa & is located at Priol in Ponda Taluka. Dona Paula, a village named after Dona Paula de Menezes, the wife of a noble man Antonio de Souto Maior, who died as a young woman in 1682. Miramar Beach, an urban beach where the Mandovi River meets the Arabian Sea, a point that offers the best location to watch enchanting sunsets
Overnight Hotel – Goa (B)
Overnight Hotel – Goa (B)
Day 14 - Goa – Mumbai (9W-474 – 1615hr-1715hr), Departure (Flight)
Our tour concludes: Caper thanks you for your patronage & look forward serve you again in near future.
Package includes:
13 Nights accommodation on twin sharing basis with short stay in Mumbai.
Buffet breakfast
A/C transportation as per the itinerary (No transportation on leisure days).
In Mumbai airport -hotel -airport transfers by hotel car - coach.
Local English speaking guide as per the itinerary.
Elephanta boat cruise in Mumbai.
Package does not include:
Any airfare or airport tax.
Any Monument entry fee & camera fee.
All presently applicable taxes.
Optional Tours
Any expense of personal nature such as hard/soft drinks, laundry, phone/fax calls, tips etc.
Any other expense not mentioned in the
"Package includes".