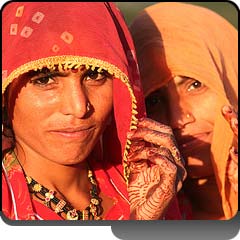 A beautiful concoction of diverse topography, vivid climatic conditions and cultural beliefs, North India boasts of a dominant geographical condition. The region shares its borders with China, Nepal, Bhutan and Pakistan. It boasts some of the largest glaciers, sub-tropical forests, wildlife reserves and archaeological treasures. Northern India can be defined as the place where history blends with culture and religion.
From sacred pilgrimage centres of Hindus to holiest Buddhist monasteries, revered Sikh Gurudwaras and renowned Islamic mosques; all the religious attractions co-exist in Northern India with complete harmony.
Blessed with sheer natural beauty and a rich cultural heritage, North India offers you a travel experience of a lifetime. Home to historic, majestic, as well celestial destinations, the beauty of Northern India will charm and enthrall you with its magical feel. From experiencing the fast moving culture of city life in Delhi, to attaining nirvana in some tranquil destination of Himachal Pradesh, from exploring the magical wonder of nature in Kashmir to admiring the barren yet mysterious land of Rajasthan; North India has so much to offer to everyone.
Strings of attractions
North India is the abode of various Hindu pilgrimage centres, such as Varanasi, Ayodhya, Haridwar, Allahabad, Mathura, Vaishno Devi and Pushkar. The region is not just a devotional hub for Hindus, and is also home to various Buddhist pilgrimage centres like Sarnath and Kushinagar. The Golden Temple of Amritsar, the Nanda Devi Biosphere Reserve, and the Khajuraho Temples, are among the major attractions among the spiritual seekers.
Apart from the religious attractions, other popular attractions here are the Hill Forts of Rajasthan, Jantar Mantar (Jaipur), Bhimbetka Caves, Sanchi monuments, Agra Fort, Fatehpur Sikri, the Taj Mahal, Qutub Minar and Red Fort.

Culture
The rich culture of North India is because of its prosperous mixture of various customs, traditions and values. Being ruled by several rulers and dynasties in the past, the impact of that is still prevalent in the culture and values of North India. The influence of the various dynasties still prevails in the ethnicity here. Invaders like Aryans, Huns, Greeks and Afghans captured different parts of Northern India, and ruled it for years. The cultural diversity of North India can be observed through its distinct architectural monuments and religious places of worship.
North Indian Culture is mainly associated with Indo-Aryan traditions and customs with impact from prolonged historical culture.

Cuisine
The staple food of North India is wheat, consumed in the forms of rotis or chapatis with sabzi or curry. Although, majority of North Indian people prefer vegetarian diet, Non veg dishes are also well famed here. Popular Punjabi cuisine includes Lassi, Sarson da Saag, Dal Makhani, Rajma, Choley, Kadhi Pakora, etc. are widely consumed by the North Indians. Popular Rajasthani cuisine includes Daal-Baati Churma etc. Besides many relishing desserts are also popular in North India like Halwa, Gujia, Kheer, Imarti, Petha (specially petha from Agra), a very famous dessert called Bal Mithai from Kumaon are a few.
Our Verdict
You are going to enjoy exploring North India. From enjoying the ancient cities and traditions to admiring the modern culture, North India delivers it all. Go for adventurous rides in the snowy Himalayan Mountains and rivers of Northern India or get healed from within in the midst of nature in North India. Trust us, you won't be disappointed.
Recommended north india Tour Packages
Colorful Heritage Tour - Rajasthan

Duration:

14 Nights - 15 Days


Locations:

Delhi + Mandawa + Bikaner + Jaisalmer + Jodhpur + Udaipur + Jaipur + Agra + Delhi

Haridwar & Rishikesh Extension

Duration:

02 Nights - 03 Days


Locations:

Delhi + Haridwar + Rishikesh +Delhi

Golden Triangle with Haridwar & Rishikesh

Duration:

07 Nights - 08 Days


Locations:

Delhi + Jaipur + Agra + Mathura + Vrindavan + Delhi + Haridwar + Rishikesh + Delhi

Golden Triangle Tour 05 Nights - 06 Days

Duration:

05 Nights - 06 Days


Locations:

Delhi + Jaipur + Agra + Mathura + Vrindavan + Delhi

Golden Triangle Tour 06 Nights - 07 Days

Duration:

06 Nights - 07 Days


Locations:

Delhi + Jaipur + Agra + Mathura + Vrindavan + Agra + Delhi

Golden Triangle Tour by Private Charter flight

Duration:

04 Nights - 05 Days


Locations:

Delhi + Jaipur + Agra + Delhi

Golden Triangle with Corbett

Duration:

08 Nights - 09 Days


Locations:

Delhi + Jaipur + Agra + Mathura + Vrindavan + Delhi + Corbett + Delhi

Palaces of Rajasthan with Classical India

Duration:

14 Nights - 15 Days


Locations:

Delhi + Udaipur + Ranakpur + Jodhpur + Pushkar + Jaipur + Fatehpur Sikri + Agra + Orcha + Khajuraho + varanasi

Jewels of Rajasthan

Duration:

09 Nights - 10 Days


Locations:

Delhi + Agra + Jaipur + Jodhpur + Udaipur + Mumbai

Kashmir at Glance

Duration:

05 Nights - 06 Days


Locations:

Delhi + Srinagar + Delhi

Kashmir Delight

Duration:

07 Nights - 08 Days


Locations:

Delhi + Srinagar + Gulmarg + Srinagar + Sonamarg + Delhi

The Land of Lamas .... Ladakh

Duration:

09 Nights - 10 Days


Locations:

Delhi + Leh + Alchi + Uleytokpo + Khardungla + Pangong + Delhi

Ladakh Cultural Tour

Duration:

09 Nights - 10 Days


Locations:

Delhi + Leh + Pangong Lake + Lamayuru + Alchi + Likir + Basgo + Tso Moriri Lake + Leh + Delhi

Rajasthan with Classical India & Kathmandu

Duration:

16 Nights - 17 Days


Locations:

Delhi + Udaipur + Jodhpur + Pushkar + Jaipur + Agra + Orcha + Khajuraho + Varanasi + Kathmandu + Delhi