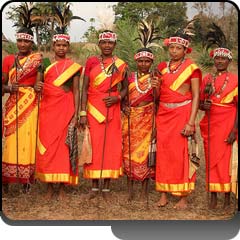 India is infinitely diverse
. And from such a wide range of culture, traditions, language, vegetation, practices, food and people resounds a firm belief of unity. The traditionally rich culture of the country perhaps happens to be a talk of pride for the country.
The vibrant culture of the nation cannot be traced out in words but enjoyed with experience.
India is living upto the dreams of 1947. Years have been spent in nurturing every facet of the Indian culture. With the best possible flavours added to it, culture is beautified like none. One of the most ancient cultures worldwide, various diversities namely language, dance, festivals, religion combine to shape it up. Each state of the nation possess a culture that is different from the others.
Indian Art and Craft
The art and craft in India is popular enough to make a special place across the globe. With its history dating as back as to the Indus Valley Civilization, there has been an immense development since then. The most popular forms of Indian art and craft includes paintings, stonework, jewelery, woodcrafts, textiles, sculptures and several others too. This tradition has has evolved remarkably and continues to develop in an influential manner.
Indian Cuisine
Indian delicacies are simply mouth-watering. The irresistible Indian cuisine is as diverse as the geographic features of India. Spices in India not only add taste to the food but they also express emotions. Delicacies from the North, South, East and West possess tastes and specialties of their own. Each one is quite different from the other. If the traditional style of eating is followed, one will have to sit on the floor and eat using the fingers of the right hand.
Indian Religion
Several religions co-exist harmoniously in India. Different religions with their deep historical roots entrenched in India, spread beliefs that have a great impact on the people and the society as a whole. The country acts as a home to religions namely Hinduism, Sikhism, Buddhism and certain migratory religions like Christianity and Islam too. People in India understand their religion well and follow its practices which eventually shapes up the social facet of the nation.
Indian Dance
Yet another age-old form of art that exists in India is Dance. Commuting effectively with the use of body movements proves that dancers in India are immensely talented. Over the years, Indian dance has developed as a form of art that is easily adaptable and understood. Every Indian state has a distinct dance form of its own. Indian dances have now gained popularity at the international levels too.
Indian Languages and Literature
Languages and literature is another facet India can boast of.  One amongst the earliest writing systems was developed in India. Then there are innumerable linguistic communities in India. Sanskrit literature has a long history. Sanskrit language became the source of origin for other languages and literature prevailing in India.