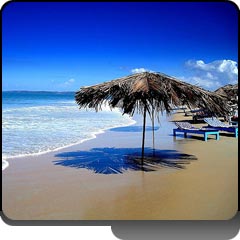 Goa is beyond sun and sands. See it to believe it. Goa offers a distinct delight like no other Indian state. Being a small state it is explored unlike rest of the states in India. Since way back in the 1960s till date, Goa enjoys the leading position on the itinerary of the most discerning tourists from both India and abroad. Backpackers have now replaced the famous hippies then. Skirts outnumber saris. Locals are warm and friendly.
Life is an everlasting celebration in Goa. Observe distinct moods of life while you walk over the silvery sands, explore the colonial cottages, relax at unique beaches with terrain dominated by palm trees and capture glimpses of white washed churches of Goa.
Although a horde of tourists land in Goa from the period ranging from late September till March when the weather remains dry and cool, but you can also choose to experience a marvellous holiday during the months when monsoon hits the state. You can see Goa at its best on a rainy day. Goa offers the pleasures of a luxurious stay in the exotic resorts. Marriot Resort, Taj Exotica, Taj Fort Aquada Resort, Park Hyatt Resort are a few luxury resorts to mention.
Goa has a vast range of beaches to suit the needs of one and all. Some beaches are simply ideal for solitude seekers while others are crowded with people basking in sunshine. The essence of local culture that follows the blend of sun and sea adds to the fun and leisure that you experience at the pristine beaches of Goa. The prominent ones include Bogmalo beach and Anjuna beach.
The Portuguese-Gothic style churches that dot the land of Goa are the must visits of the state. Hundreds of devotees from far and wide come to Goa to see these churches. The famous ones are namely Se Cathedral, Church of St. Francis-Xavier, Church of St. Monica, etc.
Come February to see Goa surrendering itself to the spirit of joy and gay. The Goa Carnival that continues for three days will trap you within its inescapable aroma. As tourists you will enjoy watching the locals who indulge in music, dance and food which forms a major part of the celebration of the carnival.
Satiate your culinary passions with a variety of flavours Goa has to offer. The Goan style of cooking is a blend of the cooking of the east and the west, resulting in tasty and spicy dishes. Do not miss to taste the famous combination of fish, curry and rice while you are in Goa. Shots of Feni, the national drink of Goa, will keep you in high spirits.
Goa is truly a shoppers paradise. It offers the opportunity to pick things from both big outlets as well as roadside markets. There are a number of designer clothes stores, lifestyle outlets and government emporia. The flea market at Anjuna set up every Wednesday is yet another halt for those who indulge in shopping in Goa. You can also shop for some brilliant handicrafts from the rural regions in Goa.
Plan a laid back holiday vacation in Goa. The magic spell by its churches, cuisine, casinos and carnivals will fascinate you so much so that you will
cherish a holiday in Goa
forever.