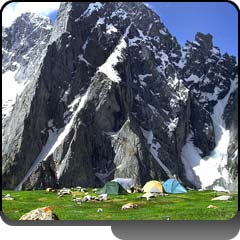 Revered as the
Abode of Gods
, the massive Himalayan ranges stretch along the northern border of India. For centuries now, the Himalayas have been casting a spell over the onlookers. The appeal of these youngest mountain ranges fascinates one and all. These mighty mountain ranges rise from the Gangetic plains. The landscape of these mountains is covered by deciduous forests, snow-clad peaks and diverse wildlife that attracts the holiday makers and adventure freaks here.
The Great Himalayas have now become a favoured adventure zone across the globe. They offer opportunities for a variety of adventure sports like trekking, mountaineering, camping, biking and many more. You will see yourself spoilt for choices while you are in the lap of the Himalayas. Explore the following destinations during your tour to the Himalayas which will bring you closer to its rich heritage.
Himachal Pradesh
Himachal Pradesh in India is covered with snow during maximum time of the year. Natural beauty exists in its best form in Himachal Pradesh. Mountains covered with conifers, calm valleys with blue waters and Swiss summer cottages contribute in making Himachal Pradesh a picturesque destination. Himachal Pradesh houses several hill stations that are quite cool during the summers. Hold your breath as these hill stations offer several majestic sceneries.
Sikkim
Be a part of the unique culture, a rich history, colourful festivals and on-going traditions while you are in Sikkim, India. You will feel as if you have entered a new world altogether which is situated at a great height. The monasteries and the ancient stupas that dominate the landscape of Sikkim are amongst its major attractions. A tranquil and peaceful aura fills the state. People follow simple monastic life. Celebrations and festivals add a splash of colour to Sikkim. Sikkim – the land of Lama can be best explored while trekking through its routes.
Ladakh
Ladakh, fondly known as 'The Last Shangrila', is simply a paradise surrounded by mighty mountains. You will have to pass through several beautiful passes in order to reach Ladakh. You can also choose to fly over the Himalayas so as to reach Ladakh. Catch a glimpse of the rich culture that exists amidst this Buddhist prominent place.
Uttaranchal
Uttaranchal, earlier a part of Uttar Pradesh, was formed as a separate Indian state in November, 2000. Uttaranchal is the one of the most beautiful state in India. Nature is bestowed beautifully in Uttaranchal. For this very reason the place is fondly known as 'Dev Bhoomi' (the land of gods). Ganga, Yamuna and several other holy rivers in India begin in Uttaranchal.
Come to the Himalayas which are more than merely a mountain range, especially for Indians. Our prudence began here, our epics were compiled here, the Ganges begins its journey here and our Gods reside here.
The Great Himalayas reflect an eternal appeal.