Orissa Temple Tribal Tour
Duration: 15 nights - 16 days
Locations: Delhi– Bhubaneswar - Puri - Gopalpur - Rayagada – Jeypore - Vishakhapatnam– Mumbai
Tour Highlights

Delhi

Red Fort, Raj Ghat,  Jama Masjid, Chandni Chowk , India Gate, President House, Humayun Tomb & Qutub Minar


Optional

  Sound & Light  Show at Red Fort  & dinner at Chor Bizarre

Bhubaneswar

Temples Lingaraja, Parashurameshwara & Mukteswara

Lalitgiri

Buddhist Complex

Ratnagiri

Buddhist sculptures

Udaigiri

Monasteries, Caves both Jain & Buddhist

Dhauli

Peace Pagoda known as the Shanti Stupa

Pipli village

Orissan Handicrafts

Konark

Sun Temple

Puri

Jagannath Temple, Beach

Chilka Lake

Birds sanctuary

Raghurajapur

Tribal Village

Gopalpur

Ancient sea port & Beach

Rayagada

Excursion to Saora Tribal village, Kothgarh

Jeypore

Godabas, Munda tribe, Excursion to Onukudelli, Kunduli

Vishakhapatnam

Simanchalam Temple

Mumbai

Gateway of India, Elephanta Caves boat cruise, Prince Wales Museum & Marine Drive
Detailed Itinerary
Day 01 - Arrive Delhi
Arrive by International flight, after traditional 'Swagat' (Welcome) our representative would assist you at airport & transfer to hotel for check in.
Delhiisa bustling metropolis, which successfully combines in its folds the ancient with modern. Its strategic location was the prime reasons why successive dynasties chose it as their seat of power. In fact, more mythological cities are believed to be here, like the city of Indraprastha from the Hindu epic Mahabharata, founded around 5000 BC. Numerous monuments were built over several centuries by different rulers like Qutub-ud-din Aibek, Alauddin Khilji, Tughlaks, Humayun & Shah Jahan, who built the Walled City Shah Jahanabad.
Later in first half of 20th century much of New Delhi was planned by Sir Edwin Lutyens, who laid out a grandiose central administrative area as a testament to British rule in India. The division in walled city & New Delhi also marks the division in life styles.
Overnight Hotel – Delhi (B)
Day 02
Full Day Tour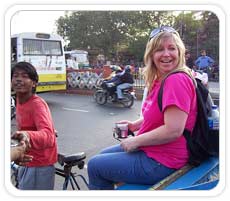 Today we take a guided tour of Old Delhi, the 17th century walled city of Shah Jehanabad, Visiting the great Jama Masjid, the principal mosque of Old Delhi. Built in the year 1656 AD by the Mughal Emperor Shah Jahan, it is the largest & best known mosque inIndia.Later we walk down or take a rickshaw ride through Chandi Chowk, the old marketplace of Shah Jahanabad now a picturesque bazaar to reach Red Fort, built in the year 1648 by Shah Jehan.
In New Delhi, we visit Raj Ghat, memorial to the Father of the Nation, Mahatma Gandhi. It is a simple black marble platform that marks the spot of his cremation on 31 January 1948. Further we drive past India Gate, memorial built in the year 1931 to commemorate the Indian soldiers who died in the World War I & the Afghan Wars. The names of the soldiers who died in these wars are inscribed on the walls. President's House, the official residence of the President of India, built in 1931. Until 1950 it was known as Viceroy's House & served as the residence of the Governor-General of British India. We will also visit Humayun's Tomb, memorial of Mughal Emperor Humayun, built in the year 1562. The complex is a World Heritage Site & the first example of this type of Mughal architecture in India. Qutub Minar, built in the year 1206 by Qutub-ud-din Aybak. It is the tallest (72m) brick minaret in the world, an important example of Indo-Islamic Architecture. Qutub Minar & its monuments are listed as a UNESCO World Heritage Site.
Optional Tour
Overnight Hotel - Delhi (B) 
Day 03 - Delhi - Bhubaneswar (By Flight)
Today we take a flight to Bhubaneswar, the temple city of India. Once the capital of ancient Kalinga, the city has a long history & is today a bustling centre for commerce & religious activity. These temples are unique in themselves, not only in their architectural beauty but also in the wonderful sculptures. These temples epitomize a comprehensive history of Orissan style of temple architecture from its very inception to perfection spreading almost to 2000 years from 3rd century BC to 16th Century AD.
Full Day Tour
Later we take a tour of Bhubaneswar visiting Lord Shiva Lingaraja Temple, the 11th century temple of Bhubaneswar has been described as "truest fusion of dream & reality." A rare masterpiece, the temple has been rated one of the finest examples of purely Hindu temple. Every inch of the 55 m-high Lingaraja temple is covered with elaborate carvings. Sculpture & architecture fused elegantly to create a perfect harmony. Next we visit Mukteshwara Temple, a 7th-8th century AD is one of the most ornate temples in Bhubaneswar. The intricate carvings of the deities stand testimony to the influence of Hindu, Buddha & Jain style of architecture. The carvings on the roof are specially striking.
We also visit Parashurameshwara Temple, a small but richly decorated shrine of Shiva that was built in the 7th century. It is one of the best examples of the Orissa style of temple architecture.
Overnight Hotel – Bhubaneswar(B) 
Day 04 - Bhubaneswar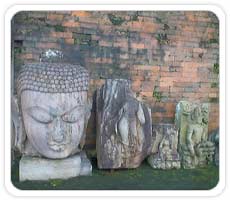 Excursion to Lalitgiri, Ratnagiri & Udaigiri
Today we take a same Day excursion to Lalitgiri, Ratnagiri & Udaigiri, famous for Jain & Buddhist Monasteries. We first visit Lalitgiri, earliest Buddhist Complex dating back to the 1st century AD forms an important node of the Diamond Triangle ie Lalitgiri & Ratnagiri & Udaigiri. The majestic ruins of the huge brick monastery, the remains of the chaitya hall, a number of votive Stupas & a renovated stone stupa at the apex of a small rugged sandstone hill dominate the rural greenery around. Next we visit Ratnagiri, famous for many significant Buddhist sculptures scattered around in the hill range. The excavations have revealed the relation of this place with the Gupta Dynasty, dates back to 6th Century AD. The huge monastery showing that Buddhism spread through these areas in the later part, especially due to the influence of the great King Ashoka.
Later we visit Udaigiri & Khandgiri caves, largest Buddhist Complex in Orissa & famous for the caves, these hills provide some solid examples of Jain & Buddhist art of the 2nd Century BC. There are monasteries, Chaitya & Stupas that represent a vibrant culture that flourished in these hills.
Overnight Hotel – Bhubaneswar(B) 
Day 05 - Bhubaneswar– Puri (56 km - 2 hr)
Today we drive first to Dhauli, where Mauryan Emperor Ashoka the Great renounced bloody warfare & embraced the teachings of Buddha after victory over kingdom of Kalinga. Here we visit Peace Pagoda known as Shanti Stupa built in early 1970 by Japanese. Also visit two ancient rock edicts, today eclipsed by the presence of the Pagoda. Dating from 260 BC they outline Ashoka's detailed instructions to his administrators to rule with gentleness & fairness. Next we visit the Colorful Pipli village, where Orissan Handicrafts, the specialty is applique work.
Later we drive to Puri en route we visit Konark temple Chariot of the Sun God, built by King Langula Narasimha Deva in the 13 century ADin the Golden era of Orissan art. This crowning piece of Orissan architecture & sculpture is sheer poetry on stone.
Overnight Hotel – Puri(B)
February Attraction: Performance of the Annual Dance Festival which is held by the stunning ruins of the Sun Temple. Renowned exponents of Indian classical dance forms participate at this festival.
Day 06 - Puri – Raghurajapur (15 km - 30 mins Oneway)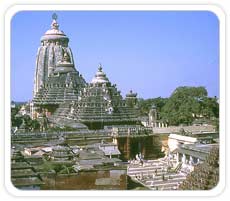 Today we visit the famous Jagannath Temple, dedicated to Krishna (Vishnu) in his deity form of Jagannath, meaning Lord of the Universe (Jag translates to Universe, nath means Lord). The present temple structure was built by Ananta Brama Chodaganga Dev in middle of 12th century AD (1078-1147 AD). It is a curvilinear temple which rises to 214 feet. Crowning the very top is the 'srichakra' (an eight spoked wheel) of Vishnu. The most important festival is the Rath Yatra or the Chariot festival once a year.
Later we take an excursion to Raghurajapur village, the artisan village Raghurajapur near Puri which specializes in Pattrachitra, an art using vivid colours painted on palm leaves. We also see the ancient art of palm leaf etching which in the 16th century was used to illustrate manuscripts. It was this technique which helped shape the Oriya script to its present rounded form. Next we explore the Puri beach, one of India's finest beaches. Puri Beach attracts millions of travelers to India with its strategic setting & religious importance.
Overnight Hotel – Puri(B)
Day 07 - Puri – Gopalpur via Chilka Lake (200 km- 5 hr)
Today we drive to Gopalpur en-route visit Chilka Lake, famous for its bird sanctuary. It is Asia's largest inland salt-water lagoon. Studded with small islands including the picturesquely named Honeymoon Island & Breakfast Island, the lake is separated by a sandy ridge. It is dotted with small islands & has an impressive array of bird life both native & migrant. White bellied sea eagles, graylag geese, purple moorhen, jacana, herons & flamingosare most popular bird species found. Other than the birds, its shores arehome to black buck, spotted deer, golden jackals & the lake is rich in aquatic life, its water harbor various species of fish including the famous Chilka dolphin. Prawn, crab & mackerel fishing is an important source of livelihood for the locales.
Later drive to Gopalpur on Sea, ancient sea port not often visited by tourists. Sand dunes, groves of coconut palm & casuarinas separate the small town from the beach.
Overnight Hotel – Gopalpur (B)
Day 08 - Gopalpur - Rayagada (210 km - 6 hr)
Later today we drive to Rayagada, the tribal belt of Orissa. The third highest concentration of tribal in India, because of the remote location the tribes are untouched by modern times. Though economically challenged & a very low rate of literacy, the tribal groups have highly developed artistic skills as seen in their body paintings, ornaments, weaving & wall paintings. Music & dance also are an integral part of their ceremonies & seasonal festivals.
Overnight Hotel -Rayagada.(B, L, D)
Day 09 - Rayagada – Excursion Saora Tribal Villages (45 km - 1½ hr)
Today we take a same day Excursion trip to Saora tribal villages to visit the villages of the Langia Saoras, a major tribe who live in hilly areas. In contrast to other tribes who live in clans, the Saoras live in extended families descended from a common ancestor. The walls of the mud houses are decorated with remarkable paintings & traditional designs known as IKONS. The ceremonies & festivals of the Saoras are the occasions when the social bonds are cemented. They practice both sorority & levirate forms of marriage. Later wander through tribal market.
Overnight Hotel - Rayagada. (B, L, D)  (Market only on Monday)
Day 10 - Rayagada – Excursion Kothgarh (100 km - 3hr one way)
Today we take a same day Excursion trip to Kothgarh tribal area to visit Kutia Kondh tribes. Many of them speak Kuvi, a language derived from the Dravidian strain of South India. Human sacrifice has now been replaced with animal sacrifice, offering blood to their supreme goddess represented by a piece of wood or stone to ensure fertility of the soil. The members of this tribe still use bows & arrows to protect themselves. Later wander through tribal market.
Overnight Hotel - Rayagada. (B, L, D)(Market only on Tuesday)
Day 11 - Rayagada – Jeypore via Chatikona (240 km - 7hr) 
Today we drive to Jeypore, En-route at Chatikona visiting few Dongariya Kondh villages, a very primitive tribe. Live at the top of the mountain & they also do shifting cultivation. Later wander through tribal market.
Later we continue our drive to Jeypore, endowed with falls & forests thronged with colorful wildlife has all such facilities to serve as the convenient base for visiting the places of interest in & around.
Overnight Hotel - Jeypore (B, L, D) (Market only on Wednesday)
Day 12 - Jeypore – Excursion Onukudelli (180km - 5 hr) 
Today we take a same day Excursion trip to Onukudelli, home of the approximately 6000 members of the fierce Bondas (naked people) of Tibetan-Burmese origin. They live in the remote hills & keep themselves isolated. They grow rice by shifting cultivation & keep domesticated cows & goats. They can only be seen when they come to trade at the local weekly market. The Bonda women are noticeable by their bead necklaces, striking brass & silver neck lets & their shaved heads decorated with plaits of Palmyra leaves.
We also visit the colorful Godabas, Munda tribe who speak in the Austro-Asiatic dialect called Remo. This very primitive & colourful tribes of Orissa build their houses in two rows facing each other with some broad way left between them. The economic life of the Godabas mainly center on agriculture. Later wander through tribal market.
Overnight Hotel - Jeypore (B, L, D) (Market only on Thursday)
Day 13 - Jeypore – Excursion Kunduli (130 km - 4 hr)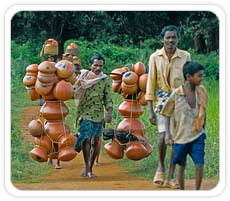 Today we take a same day Excursion trip to Kunduli via Sunabeda, to visit the tribal villages of Paroja & Mali. The weekly market is among the biggest & most colourful in the region. Parojas are one of the well-known major tribes of Orissa. They are broadly divided into two sections, Bada Paroja & Sana Paroja. Men usually wear lion cloths, napkins & women wear coarse & cheap sarees.
Later wander through tribal market.
Overnight Hotel - Jeypore (B, L, D) (Market only on Friday)
Day 14 - Jeypore – Vishakhapatnam via Gupteswar (225 km- 7 hr)   
Today we drive to Vishakhapatnamvia Gupteswar to visit the Dhuruba tribal village. They are one of the oldest tribes of Orissa. As regards the family, the father acts as head & manages the family. The income of the family members goes to the headman & it is his duty to fulfill the needs of the family members. Both nuclear & joint families are found among the Dhurubas.
We also visit the Caves which were believed to have been refugeof Lord Rama during his days in exile & place he worshiped God Shiva. Later we continue our drive to Vishakhapatnam, formerly known as Vizag, previously belonged to the Dutch, who were among the first Europeans to make their presence felt in India later went to British & was known as Waltair under British rule.
Overnight Hotel - Vishakhapatnam. (B) (Market only on Saturday)
Day 15 - Vishakhapatnam– Mumbai (By Flight)
Today we take a tour of Vishakhapatnam, visiting Simanchalam Temple, is one of the most important Vaishnavites shrines of South India. It has Sri Varaha Lakshmi Narasimha Swamias the presiding deity with more than 252 inscriptions describing the antecedents of the temple, its historically important. Original shape of the deity in the Tribhanga posture has two hands with the head of a lion on a human torso.
We explore some beaches before boarding light to Mumbai, an archipelago of seven islands. Artifacts found that these islands had been inhabited since the Stone Age & documented evidence of human habitation dates back to 250 BC. In the 3rd century BC, the islands formed part of the Maurya Empire. In 1534, Portuguese appropriated islands from king of Gujarat later ceded to Charles II of England in 1661, as dowry for Catherine de Braganza. These islands were in turn leased to the British East India Company in 1668.
Overnight Hotel – Mumbai (B)
Day 16 - Mumbai
Full Day Tour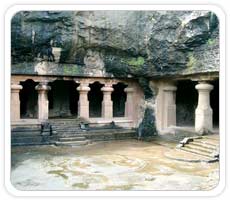 Today we take a City tour of Mumbai visiting Gateway of India, the entrance to the port of Mumbai. It was built to commemorate the visit of King George V in 1911. Across the road we visit Prince Wales Museum, built in a confluence of Gothic & Moorish styles. It boasts a collection of ancient Indus Valley artifacts dating 2000 BC, plus some priceless Tibetan & Nepali Art.
Later we take the boat cruise from Gateway of India to visit Elephanta Caves, houses rock cut temples dating back to 5th century CE. It was named by the Portuguese, after the statue of an elephant near the landing area of the island. We also drive through the Marine Drive, which runs along the shore of the Arabian Sea from Nariman Point past Chowpatty Beach to the foot of Malabar Hill.
Our tour concludes: Caper thanks you for your patronage & ensures a punctual transfer to the Airport for your onward travel.
Package includes:
15 Nights accommodation on twin sharing basis with early check in facility.
Buffet breakfast
A/C transportation as per the itinerary.
English speaking Local Guide for the Tour.
Package does not include:
Any airfare or airport tax.
Expenses of personal nature.
Monument charges.
All presently applicable taxes.
Any other expenses not mentioned in the cost include.