Roopkund (Mystery Lake) Trek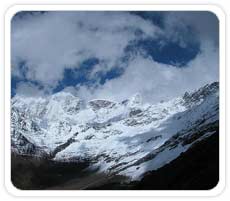 Region: Garhwal Himalayas
Season: May to October
Roopkund becomes famous when large number of Human bones was reported. After that explorers & scientists have tried to explain the mystery but it helped in deepening the mystery rather solving it. Two theories have emerged & one is that these bones are of Gen. Zorawar Singh of Kashmir & his men who were coming back after raiding China-Tibet in 17th Century. Second opinion, which is also believed by locals, is that large numbers of people visiting Homkund were trapped in avalanches & snowstorms & got killed.
Duration: 12 Nights & 13 Days
Routing: Delhi -Nanital – Mundoli – Bedni Bugyal – Bagubasa – Roopkund – Bhuna – Kanol – Ghat – Rishikesh – Delhi
Tour Highlights
Nanital
Boating at Nani Lake
Rishikesh
Laxman Jhula, Ram Jhula, Geeta Bhawan, temples & ashrams
Detailed Itinerary
Day 01: Arrive Delhi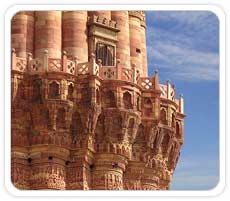 Arrive by International flight, after traditional 'Swagat' (Welcome) our representative would assist you at airport & transfer to hotel for check in.
Delhi is a bustling metropolis, which successfully combines in its folds the ancient with modern. Its strategic location was the prime reasons why successive dynasties chose it as their seat of power. In fact, more mythological cities are believed to be here, like the city of Indraprastha from the Hindu epic Mahabharata, founded around 5000 BC. Numerous monuments were built over several centuries by different rulers like Qutub-ud-din Aibek, Alauddin Khilji, Tughlaks, Humayun & Shah Jahan, who built the Walled City Shah Jehanabad.
Later in first half of 20th century much of New Delhi was planned by Sir Edwin Lutyens, who laid out a grandiose central administrative area as a testament to British rule in India. The division in walled city & New Delhi also marks the division in life styles.
Overnight Hotel – Delhi (B)
Day 02: Delhi – Nanital (1938 m) (322 km - 10 hr)
After early breakfast we drive to Nainital, a hill-station popular with Indian tourists. It falls in Kumaon Mountains, known for their idyllic beauty. Nainital is a 100 year old hill-station situated around the beautiful Naini Lake, or abode of the eye-goddess after which the town takes its name. Overnight Hotel – Nanital (B)
Day 03: Nanital–Mundoli (2134 m)
Mundoli – Lohajung (2350 m) (Drive 195 km - 8 hr & Trek 1 km)
Todaywe drive 115 km towards Kausani (1890 m), a beautiful hill-staton from where we have a 300 km view of the beautiful Himalayas. After crossing Kausani we drive 17 km to Baijnath (1126 m), which has the famous temple complex, dedicated to Lord Shiva. After that we drive to Mundoli via Gwaldam. The road to Mundoli after Gwaldam is little rough. On arrival at Mundoli, we take our backpacks & walk about 1 km towards our Campsite at Lohajung on the top of the grassy ridge about 200 m above Mandoli. It has excellent views south towards the valley & in the north we have our first glimpse of the peak Nanda Gunti (6860 m) & also we look in the direction we will follow tomorrow up the River Gyan Ganga.
Overnight Tent – Lohajung (B, L, D)
Day 04: Lohajung – Didana (2634 m) (05 hr trek)
Today we start trekking down into Gyan Ganga Valley initially through rhododendron & oak forest. Then we follow the river before a climb to Didana.
Overnight Tent – Didana (B, L, D)
Day 05: Didana – Bedini Bugyal (3354m) ( 06 hr)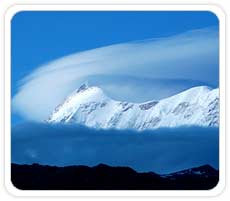 Today starts with a serious uphill section through forest. About 3 hr later we reach the tree line & if the clouds allow we will have wonderful views of Chaukhamba & Nilkanth Mountains. At this point we are on a grassy ridge leading to the meadows of Bedni Bugyal. This high meadow is the main area used for camping by travellers on the great pilgrimage to Roop Kund which takes place every 12 years. It is a beautiful & interesting place dotted with shrines & temples. It is said to be the one of the most stunning alpine campsites in the Himalayas. In the morning there will be a tremendous view of Trishul above the Shila Samudra glacier, as well as Nilkanth to the north-west.
Overnight Tent – Bedni Bugyal (B, L, D)
Day 06: Bedini Bugyal (3354m)
Day for Acclimatization.
Today we trek 500 m higher than Bedni Bugyal & then come down to our same campsite. This exercise is to improve the acclimatization process.
Overnight Tent – Bedini Bugyal (B, L, D)
Day 07: Bedni Bugyal – Bagubasa (4100m) ( 06 hr)
Today we again start our trek. The trail crosses a hump to reach Bistola & then climbs up to Bagubasa, an improvised stone shelter that is generally used by local pilgrims.
Overnight Tent - Bagubasa
Day 08: Bagubasa – Roopkund Lake (4778 m)
Roopkund Lake – Bagubasa ( 06 hr)
In the morning if the weather is clear you will have great views of Trishul & the mountains around. Today we start our arduous trek of about 3 hr to reach Roop Kund Lake. At Roop Kund, if the snow is not too deep, the mysterious skeletons & remains of human beings & horses can be seen. There are also great views of the surrounding glaciers & high peaks. The lake is haunting as well as very scenic. If interested we can hike another 30 minutes or so up to the ridge above the lake where you will be rewarded with wonderful views of Trishul & the surrounding mountains. After spending some time exploring the area we return to Bagubasa.
Overnight Hotel - Bagubasa (B, L, D)
Day 09: Bagubasa – Pather Nachauni – Bhuna (3450 m) (06 hr)
Today we trek back till Pather Nachauni & then take a turn to traverse the mountain face & below us on left side is beautiful Bedni Bugyal. The trek is like on a fishbone with steep ravines & valleys cutting on both sides & allowing us an exceptional panorama that spreads itself from Trishul to Chaukhamba. At Bhuna we camp to the proximity of sheep barns.
Overnight Tent – Bhuna (B, L, D)
Day 10: Bhuna – Kanol ( 2670 m) (6 hr)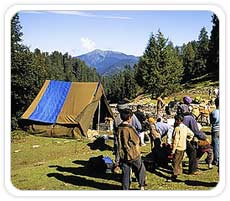 Today we descend through a beautiful forest of Cedar & Rhododendron. The valley widens itself & the slopes gradually soften & finally we reach Kanol amidst cultivated fields. Kanol is a picturesque village & nestles among thick forests of rhododendron. The Nandakini River flows close by. The village houses are made up of stone & slate & we can meet the villagers. We may also see monkeys on the trees or on the roof of the houses. The place offers a majestic view of the Trishul Overnight Tent - Kanol (B, L, D)
Day 11: Kanol – Sitel (1850 m)
Today we start our downhill trek to Sitel through a pastures & fields, where men & women work on their fields amidst beautiful landscape & River Nandakini flowing nearby with beautiful view of the mountains. Our trek ends at Sitel & rest of the day is at leisure.
Overnight Tent – Sitel (B, L, D)
Day 12: Sitel – Ghat (1334 m) 16 km drive
Ghat – Rishikesh (216 km - 8 hr)
Today we drive to Ghat, a small town & from there to Nandprayag, where River Mandakini meets River Alananda. From there we drive down to Rishikesh.
Rishikesh is a very important Hindu pilgrimage site. There is also a cluster of a number of Ashrams & temples giving the entire place a very spiritual atmosphere. The ceaseless flow of the river, regarded as Goddess Ganga adds to the beauty & the purity of the place. Along the river, the area is filled with thick green forests in the all-mountainous region. Rishikesh is famous for its yoga & meditation sessions that are taught here by many yoga experts. It is also a very popular centre for Ayurveda system of healing (traditional Indian medicine system). Besides the sadhus & saints, a mass of tourists too visit this place every year to have a look at this much heard about place. In addition to wonderful scenery & the numerous pilgrimage sites, Rishikesh also makes some of the most popular adventure sport destinations of India like river rafting, trekking, rock climbing, hiking.
Overnight Hotel - Rishikesh (B)
Day 13: Rishikesh – Delhi (250 km - 06 hr)
Today we will visit Laxman Jhula, Ram Jhula, Geeta Bhawan & other temples & ashrams. Later we will drive back to Delhi & reach by evening. On arrival transfer to airport
Our tour concludes Caper thanks you for your patronage & look forward serve you again in near future
Package includes
12 Nights accommodation on twin sharing basis with Breakfast.
All meals during trekking
Transportation as per the itinerary (No transportation on leisure days).
Local English speaking guide for the Tour
Services of Helper, Porter, Cook during trekking
Package does not include
Any airfare or airport tax.
Applicable taxes
Any insurance or claim due to natural calamities such as land slide, road blockage etc.
Any expense of personal nature such as hard/soft drinks, laundry, phone/fax calls, tips etc.
Any other expense not mentioned in the
"Package includes".