Aurangabad Extension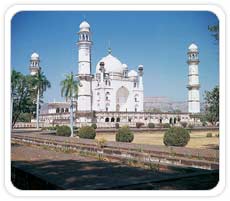 Duration:02 nights - 03 days
Locations: Jaipur - Mumbai- Aurangabad –Mumbai
Detailed Itinerary
Day 01: Jaipur – Mumbai - (Flight IT 163 1320 hr - 1505 hr)
Mumbai - Aurangabad (Flight – DN 339 1645 hr - 1745 hr)
Today we take a flight to Mumbai to further connect a flight to Aurangabad, a village named Kirki (Khadki) where the city stands today. According to some historians, the city was founded in 1610 by Malik Ambar. He was the Prime Minister of Murtaza Nizam Shah II of Ahmednagar, the then ruler of the Deccan (central parts of Southern India). In 1634, Aurangzeb was sent to Kirki as Governor of Deccan. In 1644, he moved to Agra to play an active role in Mughal politics. In 1681, the city again became the residence of Aurangzeb, who had now become Mughal Emperor. He used the city as base for his campaigns to conquer the last remaining Deccan sultanates. He lived there until his death in 1707. The modern name of the city was probably taken after his death.
Half Day Tour
Today we visit Ellora Caves, an ancient village 30 km from the city of Aurangabad in the Indian state of Maharashtra. Famous for its monumental caves, Ellora is a World Heritage Site. It represents the epitome of Indian rock cut architecture. The 34 caves – actually structures excavated out of the vertical face of the Charanandri hills– comprised of Buddhist, Hindu & Jain cave temples & monasteries, were built between the 5th century & 10th century. The 12 Buddhist, 17 Hindu & 5 Jain caves, built in proximity, demonstrate the religious tolerance prevalent during this period of Indian history. (Closed on Tuesdays)
Overnight Hotel- Aurangabad (B)
Day 02: Aurangabad
Full Day Tour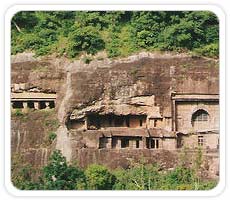 Today we visit Ajanta caves, Nestling in an inner fold of the Sahyadri hills, 100 km from Aurangabad in the shape of a mammoth horse- shoe, are the 30 rock-hewn caves of Ajanta. The Caves date from the 2nd century BC. Discovered in 1819 by a group of British army officers, these startling achievements took around 600 years to create. Carved with little more than a hammer & chisel; Ajanta, once the retreat of Buddhist monastic orders features several chaitya (chapels) & viharas'(monasteries). The exquisite wall & ceiling paintings, panels & sculptures of Buddha's life are famous throughout. As of 1983, the Ajanta Caves have been an UNESCO World Heritage Site specifically nominated for the international World Heritage program. (Closed on Mondays)
Later we Aurangabad Caves, almost forgotten caves of Aurangabad lie just outside the city. Excavated between the 2nd & 6th century AD, they reflect Tantric influences in their iconography & architectural designs. Also visit the Daulatabad For, Once known as Devgiri, this magnificent 12th century fortress stands on a hill. It was given the name Daulatabad, the city of fortune, by Muhammad Tughlaq, Sultan of Delhi. Initially a Yadav stronghold, it passed through the hands of several dynasties in the Deccan. One of the world's best preserved fort of medieval times, surviving virtually unaltered displaying the character that made it invincible.
Overnight Hotel- Aurangabad (B)
Day 03: Aurangabad-Mumbai (Flight- 9W 110 1955 hr- 2055 hr)
Day at leisure

Today we take a flight to Mumbai, upon arrival upon arrival Transfer to International Airport for onward Destination.
Our tour concludes: We thank you for your patronage & look forward to serve you again in near future.
Package includes:
02 Nights accommodation on twin sharing basis with Breakfast.
A/C transportation as per the itinerary (No transportation on leisure days).
Local English speaking guide during the tour
Package does not include:
Any airfare or airport tax.
Any Monument entry fee & camera fee.
All presently applicable taxes.
Any expense of personal nature such as hard/soft drinks, laundry, phone/fax calls, tips etc.
Any other expense not mentioned in the "Package includes".